Daily News
Who Is Todrick Hall? Why Taylor Swift's Friend Is Embroiled in Controversy
One of Taylor Swift's best friends, performer Todrick Hall, has come out in support of the "Evermore" singer after she hit out at Netflix for including a "sexist" joke about her in one of their shows.
Todrick Hall is a rapper, singer, actor, choreographer, and YouTuber who gained prominence for his appearance on American Idol. He is also a resident choreographer and occasional judge on RuPaul's Drag Race.
Hall and Swift have collaborated in the past and fans may recognize him from her "Look What You Made Me Do" video.
This week, Swift criticized the streamer over a joke about her in the series Ginny & Georgia, which prompted a huge backlash from fans.
In the final episode of the comedy-drama, the characters Ginny and Georgia, daughter and mother respectively, are having an argument in which Ginny tells her mom: "What do you care? You go through men faster than Taylor Swift."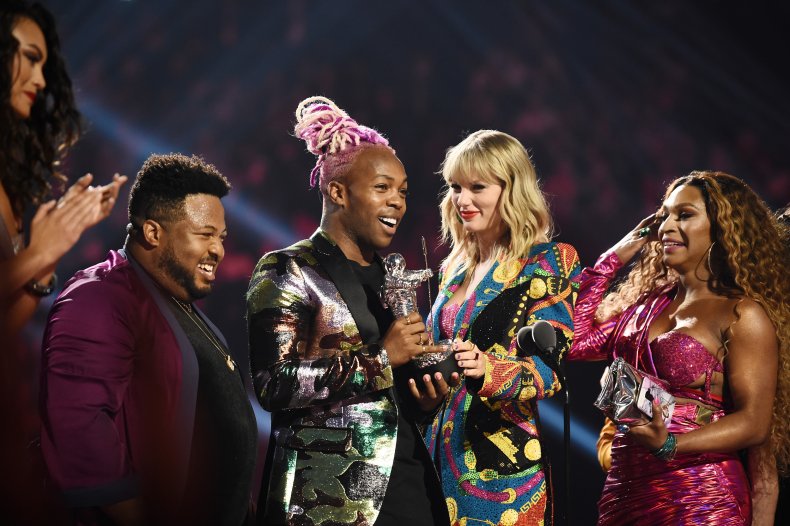 On Monday Swift tweeted: "Hey Ginny & Georgia, 2010 called and it wants its lazy, deeply sexist joke back," Swift tweeted Monday.
"How about we stop degrading hard working women by defining this horse s*** as FuNnY. Also, @netflix after Miss Americana this outfit doesn't look cute on you. Happy Women's History Month I guess."
And now Hall has also gotten involved.
The performer took to Twitter to post: "Taylor has bigger balls than any man I've ever dated. Let's make holding people, writers, networks accountable for treating humans like humans and not allowing them to use someone's personal life as the butt of a joke…"
However, Hall is being called out for hypocrisy after being accused of slut-shaming himself in a since-deleted tweet.
The deleted tweet, posted on March 1 with screenshots continuing to circulate on Twitter read: "Also, SHE HASN'T DATED a crazy amount of people…the joke makes no sense and not that it matters but I can think of quite a few pop stars who run through men/women like cardio and nobody mentions their names. The double standard is ridiculous."
The Ginny & Georgia quip is not the first time Swift has called out a sexist joke made at her expense.
Bake on 2013 the "Shake It Off: singer criticized comedians Tina Fey and Amy Poehler over a joke they made about her during the Golden Globes.
At one point in the ceremony, Fey joked: "You know what Taylor Swift? You stay away from Michael J. Fox's son," (who was escorting stars off the stage that night), while Poehler added, "Or go for it. No, she needs some me-time to learn about herself."
Months later, Swift referenced the joke in an interview with Vanity Fair.
She said: "You know, Katie Couric is one of my favorite people. Because she said to me she had heard a quote [originally from Madeleine Albright] that she loved, that said, 'There's a special place in hell for women who don't help other women.'"