Daily News
Teacher Charged After 'Incident' With Student Wearing Black Lives Matter Sweatshirt
A teacher in Louisiana has been charged with battery after allegedly pushing a student while asking him to remove a Black Lives Matter sweatshirt.
The Opelousas Police Department told KLFY that Opelousas High School teacher Patricia Brignac has been charged with one count of simple battery on a student following an incident which occurred on school grounds.
Police Chief Martin McLendon told KLFY that the teacher is accused of "involvement in an incident where a student, wearing a Black Lives Matter sweatshirt, was grabbed and pushed."
Brignac is alleged to have approached the student and asked that he remove the Black Lives Matter top as it goes against school policy.
"When the student advised that he had been given permission by a member of the school staff, Brignac allegedly grabbed the student's shirt and pushed him," McLendon said.
The student's parents complained to school administrators, who later contacted the police, McLendon said. Brignac was issued a summons and is due to appear before a judge to face the charge.
Reacting to the news, Stand Black co-founder and local community activist Jamal Taylor said: "Once again we have an incident that highlights the pervasive nature of racism in our community. It is a shame that our children cannot be safe to express that their lives matter without fear of assault by those entrusted to protect them."
While posting a screenshot of the KLFY article on Instagram, Taylor wrote that the allegations were "disgusting and depressing."
Opelousas High School have been contacted for comment.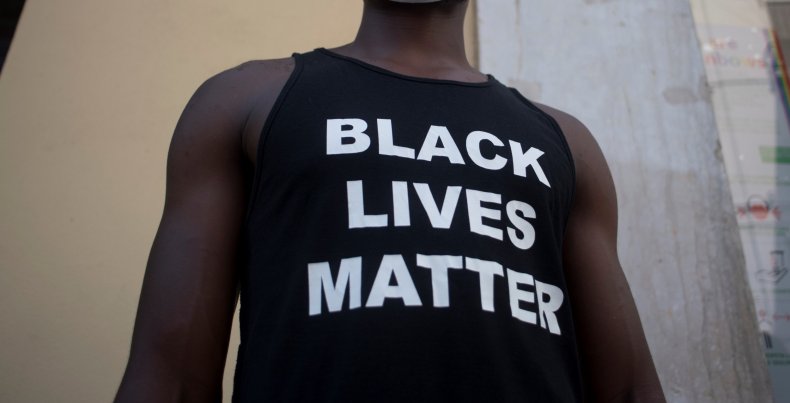 Earlier in March, a university in Massachusetts apologized over a survey which called the Black Lives Matter movement "a wild beast preying on your local community" and asked how their community could reduce the movement's escalation.
In a statement, Bridgewater State University President Fredrick W. Clark and Provost Dr. Karim Ismaili condemned the survey. They added that they are "deeply sorry for the pain and harm this has caused our students and other members of our community."
The statement explained the survey was developed as part of an ongoing research project with a hypothetical vignette. The questionnaire was meant to "elicit predictable responses to better understand how differences in the framing of an issue shape opinions, beliefs, and reactions."
It added: "Both the researchers and the university strongly condemn the viewpoint articulated through the hypothetical vignette. This survey was accessed by students in introduction to psychology and was prefaced with considerable information about its purpose."
Students responding to the survey could receive two different versions of the question about the Black Lives Matter movement which were meant to elicit either positive or negative responses.