Daily News
Russia Calls Trump 'Striking,' Follows Impeachment Trial 'with Amazement'
Russia's top diplomat expressed shock at the ongoing impeachment proceedings against former U.S. President Donald Trump, whose character the senior Moscow official said he admired.
"He is a striking personality," Russian Foreign Minister Sergey Lavrov said of the 45th president now facing an unprecedented second impeachment trial over his alleged role in a deadly riot that stormed the U.S. Capitol Building last month.
Speaking to YouTube channel Solovyov.Live, Lavrov reminisced about having met the former U.S. leader in Washington and Moscow.
"I remember two meetings with him, when I was paying visits to Washington, and his talks with Russian President Vladimir Putin which I attended," Lavrov said. "Trump is a striking politician."
The events of January 6 intensified an already rocky transition of power to President Joe Biden, but even out of office Trump continues to make headlines, as major news outlets broadcast lawmakers' attempts to impeach him.
Like much of the U.S., Lavrov was watching along, and doing so "with amazement," he said.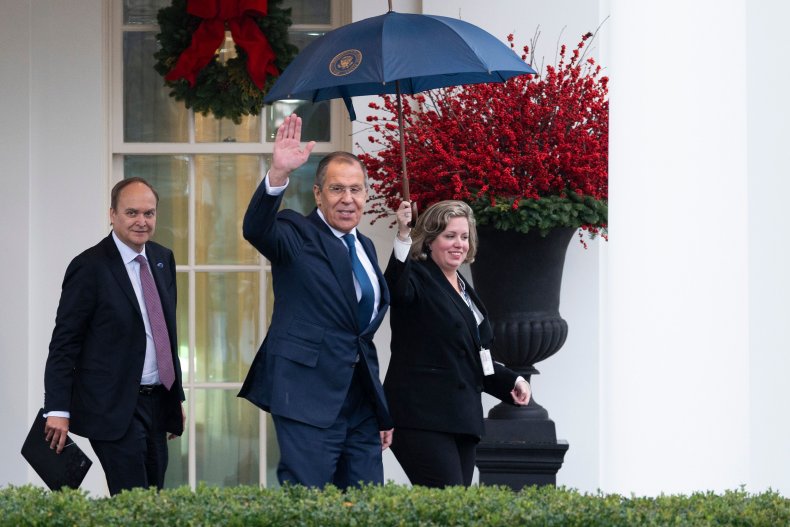 Trump's relationship with Moscow was a highly debated topic throughout the previous administration. It was also the subject of a federal investigation into potential collusion between his 2016 presidential campaign and Putin, who has led Russia as president or prime minister since the dawn of the 21st century.
The probe ultimately did not find criminal wrongdoing, and Trump later pardoned his former national security adviser, Michael Flynn, who faced prison time for misleading the government regarding his contacts with the Russian government.
Trump later faced his first impeachment last year over accusations he sought to tie military assistance to Russian rival Ukraine to ensuring the Eastern European country opened up an investigation into Biden's son, Hunter, who served on the board of Ukrainian energy company Burisma.
The Democratic-led House of Representatives voted to impeach Trump, making him the third president to be so censured, following Bill Clinton in 1998 and Andrew Johnson in 1868. As in both prior trials, Trump was acquitted by the Senate, which last year was run by Republicans.
The stakes this time around are different, however.
The Democrats have since won a slim majority in the higher chamber, and 10 Republicans broke with the party line to support Trump's impeachment in the House last month. A successful Senate vote would be the first of its kind in history, however, and require a two-thirds majority.
Meanwhile in Russia, Lavrov has acknowledged the likelihood of a cool relationship with the U.S. under Biden. The former vice president has frequently criticized Putin, as have top foreign policy officials of the new U.S. administration, especially amid the jailing of Russian opposition activist Alexei Navalny for breaking parole upon his return from Germany, where he was recovering from a an alleged poisoning by a nerve agent given to him in Russia.
But vital opportunities for cooperation remain. Heeding Putin's longstanding call to immediately and unconditionally extent the New Strategic Arms Reduction Treaty (New START), Biden said he would renew the bilateral pact limiting both countries' massive nuclear arsenals on his first full day in office, and ultimately did so before its scheduled expiration last week.
Lavrov reflected positively upon this outcome, and expressed hope that "common sense would prevail" despite disagreements between Washington and Moscow.
Putin was among the first foreign leaders with which Biden spoke following his January 20 inauguration, highlighting the importance of ties between two countries whose dynamic has for decades been defined by rivalry.