Daily News
Iran Deal, Syria Sanctions Lead Subjects on Top Russia Diplomat's Mideast Tour
The Iran nuclear agreement and ongoing U.S. sanctions against Syria have emerged as leading issues of Russian Foreign Minister Sergey Lavrov's Middle East tour, where he and his counterparts have issued comments regarding the key issues affecting the region.
The U.S. abandoned the 2015 Iran deal under former President Donald Trump, but Russia remains a party to the pact, as do China, France, Germany, the United Kingdom and Iran itself.
The Islamic Republic has stepped down from certain commitments due to non-compliance from other signatories. Moscow has urged Washington to immediately lift sanctions, something Tehran has said would prompt it to reinstate key commitments.
But with the two rivals at an impasse, Lavrov issued a recommendation to allow both sides to return to the accord officially known as the Joint Comprehensive Plan of Action, officially known as the JCPOA.
"In order to resolve this immediate challenge, we find it rather possible to develop synchronized, simultaneous, stage-by-stage steps that must be taken by the Iranians and the U.S.," Lavrov said during a press briefing Tuesday alongside his UAE counterpart Abdullah bin Zayed al-Nahyan. "Because right now, if we stick to discussing who should be first to return to their obligations, the negotiations may last forever."
Lavrov attributed the current crisis to a misunderstanding over whether to preserve the deal in its current form or expand it.
"It hasn't been implemented yet, though, because the U.S. is figuring out how to do it. Some say louder and louder that the JCPOA should be recovered in an updated, modernized format," Lavrov said. "As you know, they mention the need to discuss Iran's missile program, regional policy of Iran on its neighboring countries and in the Middle East and North Africa Region on the whole."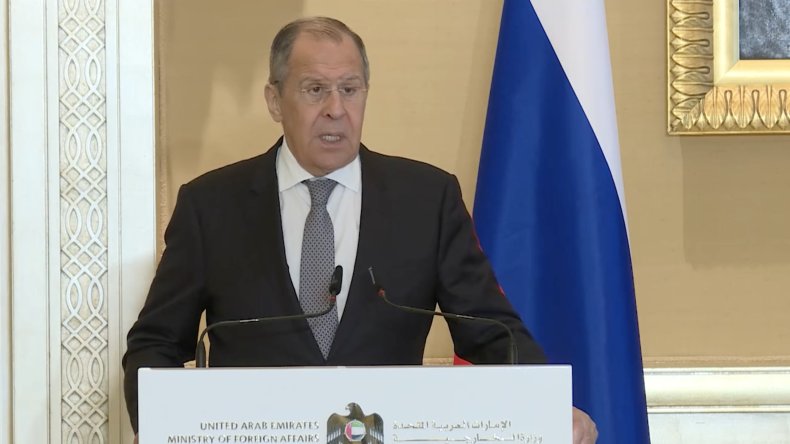 Lavrov said the two men "discussed in detail regional issues: the situation in the Middle East and North Africa, Syria, Libya and Yemen." Nahyan went into specifics on Syria, breaking with the UAE's close partner, the U.S., in seeking Damascus' reentry into the Arab League after its suspension at the outbreak of the country's civil war a decade ago.
He claimed such a return is in everyone's best interests.
"Syria's return to the Arab fold is essential and has nothing to do with who wants or who does not want it," Nahyan said. "It is a matter of public interest and the interests of Syria and the region."
But he acknowledged the challenges.
"Several hurdles are complicating the cooperation between different parties," Nahyan said. "However, Syria's return to the Arab fold and maintaining its key roles within the Arab League are a must. Therefore, the Syrian side and our colleagues in the Arab League are required to cooperate to make that happen as well."
The U.S. has urged Arab countries to reject Syria's entry as a result of alleged war crimes committed by Syrian President Bashar al-Assad, who battled a rebel and jihadi uprising partially supported by the U.S. and regional partners, including Turkey, now the only major international opposition sponsor.
Russian and Iranian support helped the Syrian leader—who was announced on Tuesday to have tested positive for COVID-19 along with his wife—regain much of his country's territory.
Some nations nations have sought to rebuild ties with Syria. The UAE announced in December 2018 that it would reopen its embassy in Damascus.
But Syria continues to struggle not only due to ongoing conflict in parts of the country, but economic woes exacerbated by the pandemic and a tough U.S. sanctions package issued last year, known as the Caesar Act.
"I believe that the key challenge facing joint coordination and action in Syria is the Caesar Syria Civilian Protection Act," Nahyan said. "There has to be a way of realizing joint cooperation in Syria. However, the Caesar Act complicates this process for states and the private sector. I also believe that we should have clear discussions about our friends in the U.S. in this regard."
Russia has also repeatedly urged the U.S. to cease its sanctions campaign against Syria, as has Iran, a rival of the UAE.
Moscow and Abu Dhabi have boosted their ties in recent years, especially as Russian has increased its clout in the Middle East and the broader Mediterranean region. Both Russia and the UAE have reportedly offered support to Field Marshall Khalifa Hafter, a military leader challenging the internationally recognized, Turkey-backed government in Libya, another country undergoing a civil war first sparked by the Arab Spring chaos and subsequent Western intervention.
Lavrov also discussed Libya in a telephone conversation Tuesday with his Egyptian counterpart Sameh Shoukry, and the state-run Tass Russian News Agency cited a source among the Russian delegation saying Lavrov would meet with his Turkish Foreign Minister Mevlut Cavusoglu on Wednesday in Doha. Moscow and Ankara have often turned to one another for talks on regional issues despite their oft-opposing interests.
Russia's influence in Syria, Libya and Egypt has broadened its footprint in the Mediterranean, a strategic region that sits at the southern flank of the U.S.-led NATO Western military alliance.
State Department spokesperson Ned Price said Thursday that President Joe Biden's administration was "clear-eyed about the threat that Russia poses, and Russia also seeks to gain influence in regions that are somewhat farther afield from the Russian Federation."