Daily News
Harry and Meghan's Approval Rating Nosedives in the U.K. After Oprah Interview, Poll Shows
Prince Harry and Meghan Markle's approval rating has hit an all-time low in the U.K. following their controversial interview with Oprah Winfrey, according to a new poll.
The survey, which was released by YouGov on Friday, found that 48 percent of U.K. citizens now view Prince Harry negatively, while 58 percent have an unfavorable opinion of Meghan.
According to the poll, Harry's approval rating has dipped by 15 percentage points since March 2, while Meghan's has declined by 14 points.
However, the survey found that the negative opinions of the couple were more commonly found among older adults. Sixty-nine percent of individuals aged 65 and older said they dislike Harry, while 59 percent of 18 to 24-year-olds reported having a favorable opinion of him.
Similarly, 83 percent of people aged 65 and older view Meghan negatively, while 55 percent of younger people do not.
Nonetheless, the survey found that the Duke and Duchess of Sussex have reached their lowest approval ratings ever. The poll collected information from 1,664 U.K. adults between March 10 and March 11.
The results come after the couple gave a bombshell interview, which aired in the U.S. on March 7 and in the U.K. the following day, describing what life was like before they decided to break away from the royal family.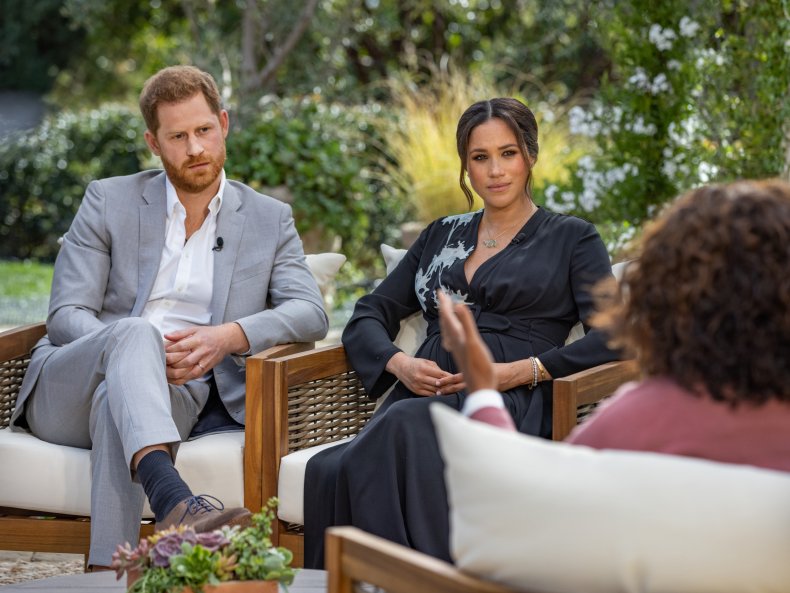 Among the many accusations in the interview, the couple described racist probes from the royal family regarding the skin color of Meghan and Harry's baby, along with revelations of suicidal thoughts from Meghan, and an overall lack of support from the family.
"I just didn't want to be alive anymore. And that was a very clear and real and frightening constant thought," Meghan said during one part of the interview, before adding that the palace did "nothing" to support her when she asked for help.
Following the interview, Harry and Meghan received both an outpouring of support and sympathy, as well as criticism and accusations that they lied. Overall, skepticism of the duke and duchess appears to run higher among Britons than Americans, polls have shown.
An exclusive Newsweek poll published on Thursday found that one in four people in the U.K. did not believe any of the accusations leveled by the couple. The survey also revealed that nearly half of U.K. adults believe the couple gave the interview as a publicity stunt, rather than to defend themselves from the royal family.
Additional polling by YouGov this week found that only 29 percent of adults in Great Britain have sympathy for the couple, compared to 68 percent of Americans who feel the same.
On Tuesday, Buckingham Palace on behalf of Queen Elizabeth responded to the couple's accusations by saying that "recollections" of what transpired may vary, but that the claims made in the interview are being taken "very seriously,"
"The whole family is saddened to learn the full extent of how challenging the last few years have been for Harry and Meghan," the statement said. "[The issues] will be addressed by the family privately. Harry, Meghan and Archie will always be much loved family members."