Daily News
Accusers Must Abandon Lawsuits Against Harvey Weinstein to Receive Full Monetary Settlement
Women who accused Hollywood producer Harvey Weinstein of sexual misconduct can receive monetary settlements—but they will only receive the full amount of their claims if they agree to not sue Weinstein in another court.
According to a revised Weinstein Co. bankruptcy plan, claim holders will receive 100 percent of the liquidated value of their claims "if they release Weinstein from all legal claims," meaning they never take their cases to court again. Those who refuse to drop their claims will receive only 25 percent of the total determined value of their claim.
"There is no balance. It forces those to settle who don't want to," Douglas Wigdor, partner at Widgor LLC, wrote in an email to Newsweek Tuesday.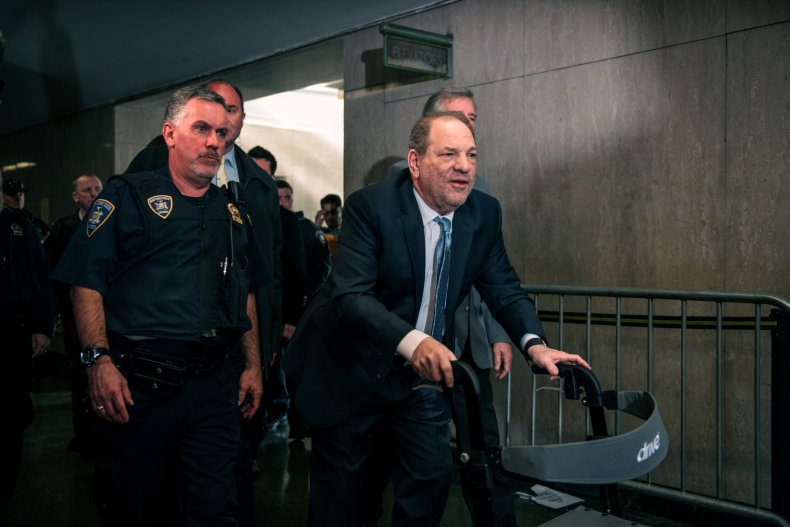 On Monday, Delaware Federal Bankruptcy Judge Mary F. Walrath approved the $35.2 million plan, which determines where the film and TV assets of the Weinstein Company will go. Within the plan is a "Sexual Misconduct Claims Fund," which includes $17 million for victims of sexual misconduct by Weinstein. A previous plan that allocated about $19 million for victims of sexual misconduct was thrown out by a judge in New York in July.
The judge overruled objections by Wigdor and Kevin Mintzer, who represent Wedil David, Dominique Huett, Rowena Chiu, Zelda Perkins, Kaja Sokola and Tarale Wulff, who did not agree with the settlement terms.
"They were [against the terms] because they forced survivors to settle claims against Harvey Weinstein and the directors against their wishes," Wigdor wrote. "While we don't begrudge anyone who wants to settle, they shouldn't force others to do so who want to continue to fight."
A total of 55 sexual misconduct claims were filed in the bankruptcy case, and 39 claim holders voted in favor of the settlement plan.
"The settlement is fair because, among other things, it provides survivors with the power of choice—those that want to have their day in court may choose to continue their claims against Harvey Weinstein and those that want closure, privacy and certainty can choose to accept the settlement," Debra Grassgreen, who represents the Official Committee of Unsecured Creditors, said in an email to Newsweek. The committee is composed of survivors of Weinstein and the Weinstein company, who Grassgreen said "strongly supported" the settlement plan.
To determine how much money each victim will receive, an examiner will score each claim according to a point system. Physical sexual misconduct claims receive as many as 60 points, non-physical sexual misconduct claims receive up to 30 points and claims of emotional distress and economic harm earn a maximum of 10 points, according to the Associated Press.
Wigdor said the system is not fair because the claims administrator who will adjudicate the points is also the mediator, which is "improper." Grassgreen, on the other hand, said this point system has been used in other sexual abuse cases, including those involving claims against the Catholic diocese, and she "believes it will be applied fairly."
The settlement will also allow women to exit all non-disclosure agreements with the Weinstein Company, which New York Attorney General Letitia James called a "critical measure" in a statement shared with The Hollywood Reporter.
"From day one, my office has always prioritized the right for survivors to have the opportunity to seek justice on their own terms, and that's exactly what they've done. I want to again thank the brave women who came forward to share their stories with my office and with the world," the statement reads.
The Weinstein Company filed for Chapter 11 in 2018. Weinstein is currently serving a 23-year prison sentence after he was convicted of rape by a New York judge in February 2020.